The Golden Globes, the beginning of the awards season and the pre-prom of the Academy Awards. Movie stars and TV stars come out to the red carpet for us to watch in the comfort of our couches and sweatpants. Here are my favorites, and my least favorites. Note that I won't even mention Mariah Carey or Cher's outfits because we all know they both looked ridiculous.
Anna Kendrick's mint green Marchesa gown with fern beading looks like something an aging aunt would wear to a warewolf Bar Mitzvah (sorry...Twilight/30 Rock pun couldn't be avoided).
Not even that look can deter from how stunning Chloe Sevigny looks in her silvery Valentino gown. She looks like shes floating on a beautifully ruffled storm cloud.
Really T. Fey? This is where Liz Lemon would insert "Blerg!" What were you thinking? Your shoes don't even match your Zac Posen carousel.
Drew Barrymore captures 1930's art deco perfectly, she looks beautifully futuristic and vintage all at the same time. Oh Atelier Versace for the win.
Jennifer Garner, mother of the bride in a Jessica McClintock creation...err Versace...for the lose.
Carey Mulligan is like a doll. A doll in a gothic-princess Nina Ricci dress. The sparkly headband made from a 19th century diamond necklace is the perfect accessory for the tone of this ensemble.
Emily Blunt's accessory cough-John Krasinski-cough is stunning enough to surpass the Carey Mulligan diamond headband. She looks so beautiful wrapped in cotton candy, and I say that as a compliment. The dress is stunning. A+ Dolce&Gabbana.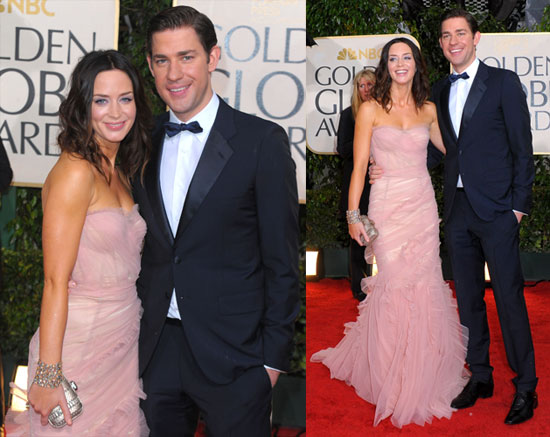 My favorite overall look was January Jones. Sorry for the size of this image, but look at the exposed zipper and the oversized ruffles on her Lanvin dress. Ruby red lips and black ribbons can never go wrong together. Normally this isn't my style, but there's something to beautiful about how experimental and elegant it is.

What were your favorites? Least favorites?